In March 2013 Apostle Kimberly Dube took a team of four to minister in Malawi and bring encouragement after the devastating floods there. Here is his report on that mission:
Some of the experiences we get in missions are really big surprises, but in all the Lord knows why. We may not always have the answers to all situations but one thing we know is that we belong to the kingdom that can not be shaken.
As for me and the team who travelled to Malawi we had also challenges but not to the degree of India one. i happened to catch malaria and my son also caught malaria. We had to rush him to the doctors there in Malawi.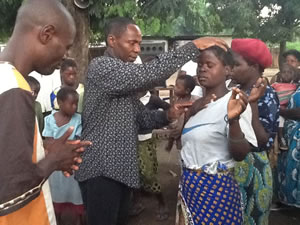 But the good news is that what we went to Malawi to do was done even more. People were really touched by the power of God. Many works of darkness were stopped including the sicknesses, demons, tobacco sniffing, witchcraft powers, blindness, difficulties in walking, body pains etc. I think Pastor Peter Fungulani, who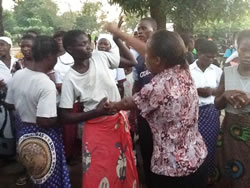 _hosted us in Malawi, will testify better but God really moved graciously and powerfully in Malawi.
We went to two places.
The first one it was very hot and were so many Mosquitoes and that is where my son got malaria. There we saw a great move of God. I even saw the 9 room house which the pastors are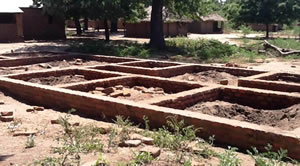 working to construct for Pastor Peter after his was destroyed by the floods. There are lots of people served by the Pastor but I just saw that there is great need of grounding them in the Word. They are somehow very shallow and they mix faith and some other stuffs. Some still bound by drinking beer, some still visiting witch doctors etc. but Peter is working tirelessly to take them into the light. He really needs support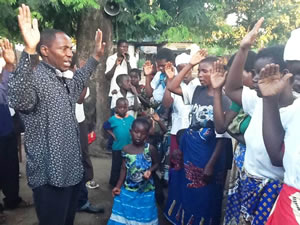 and encouragement. When I was there, I was able to give some money to some congregants and to Peter. Having seen their heart for God I also by faith pledged to support financially once on the project they have there so I am planning to go back there to Malawi by end of May 2013 just to be an encouragement again to them and to take my pledge to the church there. Some children were so sick and they need medication, but not that much. I think with good teaching of the Word and life conduct that compound can be on fire for Jesus.
The second place we went to is a sugar plantation. So many people
_again there. Again great need for the Word. I learnt a lot there as well. That is where I got malaria too (ha..ha..,ha..ha). I never took medicine because i wanted to sow malaria that I am older than it. I remember telling my wife that it will die by itself and, guess what, it did! I thank God so much nothing disturbed the work, not even the sickness. We are above all this. I just report just to share otherwise we conquered all and are all very strong and determined the more to work even harder.
when I was there i linked Pastor Peter with some pastors whom I knew through my website and he was so happy. I believe The Lord used us to bless the church in Malawi. All glory to Him.
Keep doing the works of the kingdom.
More love from Zimbabwe,
Apostle Kimberly Dube and family.
Report from Pastor Peter Fungulani in MALAWI:

CALVARY greetings in Jesus name.
We thank God for the wonderful conference we had, also thanks for sending man of God - Apostle Kimberly Dube,
Truly he is the man of God & we still fill thirsty and hunger for his coming again to Malawi. We stayed with him almost 2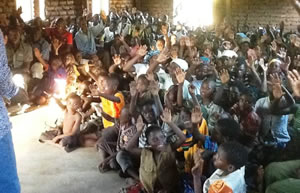 weeks & ministering at our two great conferences, The great things happened diseases were healed and demons were cast away. At our first place the hall was fully without any space and Apostle pray to our Lord to touch well wishers to fund for expansion.
My humble request to you is to jointly pray for this wonderful man of God for God's blessings to be upon him & his family - he was/is our blessing we still hunger and thirsty to see him in our country please.
Pastor Peter,
Senior Pastor-MARANATHA PENTECOSAL CHURCHES