Our 2011 Mission to Pakistan was full of tough challenges and great blessings. We are so thankful to God for all that He has done through this Mission, and to the wonderful people of Pakistan who won our hearts with their love, warm hospitality, hard work, strong faith and steadfast commitment to Christ in the midst of difficulties and persecutions.
The first challenge was visas to Pakistan, pastors from many nations were unable to get a visa to Pakistan and so their role was changed from visiting missionary to praying missionary. In the end only sister Anita Femiano from Australia, Pastor Tom, Bishop David and Apostle Elias from Kenya, and Pastor Kenneth from Myanmar (Burma) were able to get visas to travel to Pakistan. Those who had spent much time praying and preparing for the Mission to Pakistan but were unable to come due to difficulties at home or visa problems and so became praying missionaries for this trip included: Pastor Yaw from Ghana, Rev. Austin from Ivory Coast, Rev. Jeremiah from Liberia, Apostle Kimberly from Zimbabwe, Pastor Jayasen from India and Pastor Peter from Uganda.
Tuesday 15th March:
2am Anita arrived at Lahore airport and was quickly through immigration quickly, with no questions asked. While waiting at Lahore airport Anita frequently had groups of Muslim women and girls come up to greet her, although having very little language in common all understood and enjoyed laughing and hugging together. Zeerick from Great Evangelical Ministries - GEM collected sister Anita from Lahore airport in the very early morning but could not collect the Kenyan pastors at that time because of their flight difficulties. The flight from Kenya was delayed, and then cancelled. Praise God, Pastors Tom, Elias and David were able to get on other flights and, after passing through several countries and being carefully questioned by Pakistani immigration in Karachi, still manage
d to arrive in Lahore on the afternoon of 15th March. That evening, Pastor Akram (Flag of Jesus Church) took us to minister in a healing crusade, where Bishop David preached a powerful message on forgiveness and reconciliation. After that meeting we were taken to visit a free health clinic meeting the needs of the poor in the area. So much of life and ministry in Pakistan takes place at night. Just before midnight we collected Pastor Kenneth Ling as he arrived at Lahore Airport from Myanmar (Burma) and we all enjoyed our first night of warm Pakistani hospitality.
Wednesday 16th March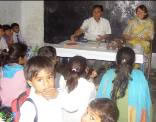 Kenneth & Anita visited a Christian school in Lahore and shared a little with the children there in two classes – lower and upper. They we visited some church members and prayed for their families before all joining together to fellowship and then the night's meetings.
At the first healing crusade we all share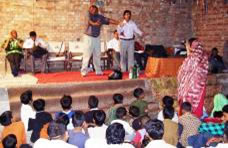 d greetings and a word of encouragement, then Apostle Elias preached powerfully, with brother Emmanuel interpreting, and greatly blessed all who attended. We had to leave this crusade straight after the preaching to get to the next meeting.
A terrible traffic jam had us badly delayed but what we found when we arrived was more than we had realised that God was doing in Pakistan. As we passed by the security guards screening for guns and bombs etc we found a massive tent meeting that takes place every Wednesday night with thousands in attendance and a crew from Isaac Televisio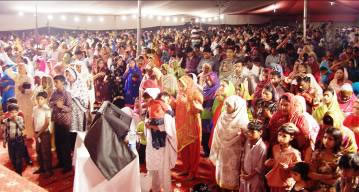 n filming, all under the ministry of Pastor Anwar and Eternal Life Ministries of Pakistan. No sooner had we been ushered to our seats on the side at the front then Anita was called to preach to this incredible meeting and God blessed all through her message on the overcoming power of Christ's love. Then each one brought greetings from their nation and Pastor Anwar led the whole meeting in prayer.
Michelle (wife of Evangelist Kashan) had invited us to dinner Wednesday night and escorted us there after the huge tent meeting. We all enjoyed the fellowship with Michelle, a couple from New Zealand who have moved to Pakistan with their young children to serve Isaac Television, Pastor Anwar Fazal and others from his ministry. After the meal we prayed for the needs of those there. Before the night was finished we also visited the Isaac Television station and prayed there. (www.isaactelevision.tv)
CIA contractor Raymond Davis released from a duel murder charge and returned to the US – this stirred up anti US, anti-government and anti-Christian feeling in Pakistan - with angry protests starting on
17th March and continuing.
Thursday 17th March our team moved out in different directions to minister with our various Affiliates in Pakistan who had requested we come to them on this mission.
Pastors Tom (from Kenya) and Kenneth (from Myanmar) flew to Karachi for their programs organised by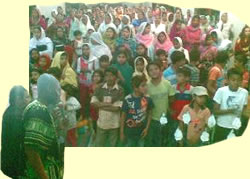 Bishop Mall (United Methodist Church of Pakistan). Their flight was delayed leaving Lahore airport due to technical issues. When they arrived at Karachi Airport they were informed by Bishop Mall that the Taliban had got through all the security and planted a bomb at the airport which had been detected and disarmed safely just 15 min before their arrival. Bishop Mall and Bishop Arshad (Gospel Revival Assemblies of Pakistan) received Pastors Tom & Kenneth from the airport and that night took them to minister in a Crusade held in Pahar-gunj, Karachi where they delivered dynamic messages, hundreds of people were blessed, some healed, some born again and many received a fresh anointing of the Holy Spirit.
Apostle Elias and sister Anita were brought to brother Zeerick's house in Lahore where they were welcomed by Zeerick's wife, Samina, a powerful intercessor and a prayerful woman of God, and their godly children. That evening a GEM Women's Ministry meeting took place in the home and sister Anita shared a message encouraging the women in prayer. The Holy Spirit touched the women in this meeting and Apostle Elias & sister Anita prayed for the women according to their needs.
Zeerick took Apostle Elias to a meeting in the GEM Church at Youhanabad, Lahore. The church was full and the people were blessed by Apostle Elias' message and praised the Lord. He also prayed for the needs of the people.
Bishop David Muyoti was collected by Pastor Akram (Jesus Prayer & Worship Church) and they visited a Sunday School at Kahna, Lahore from 4-6pm where the 60 children warmly welcomed them by throwing flowers. They presented Christian songs and Bible verses in Urdu then Bishop David gave a small message to encourage the children to learn the Bible and make it part of their lives as brother Pervaiz translated for him. The children's program was closed with a prayer from Bishop David.
That night sister Anita joined them for a roof-top meeting of the Jesus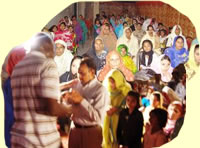 Prayer & Worship Church in Asif Town, Ferozepur Rd, Lahore where Pastor Pervaiz presided and they estimated over 250 people attended. Bishop David preached powerfully on repentance with brother Pervaiz interpreting. Pastor Akram reports that when the alter call was given following the message 115 people accepted Jesus Christ as their personal Saviour and gave their lives to God. Bishop David prayed for the sick and many were healed, slain and blessed with some sharing their testimonies of healing after the prayers.
Friday 18th March
Zeerick took Apostle Elias to minister at a meeting in Bahar Colony, Lahore that night and the power of God was greatly manifested after the preaching. The Holy Spirit touched the people in that meeting and greatly blessed them and the people worshipped uncontrollably. At the end of the meeting people came to excitedly share their testimonies with Apostle Elias.

Pastor Akram took Bishop David & sister Anita to the Isaac Television Studio where they talked with the staff and saw some of the recording of Anita preaching at Wednesday night's tent meeting, but the impending power outage meant that the recording of David preaching had to be postponed until the following day.

Pastor Akram then took Bishop David & sister Anita to visit a Gypsy camp at Kahna Nau, Lahore to see how the people live there. Excited children greeted them. They met Pastor Sarwar, and some of his team in Heart for the Lost Fellowship, including their Sunday School teacher Miss Parveen. They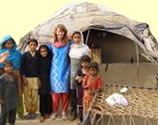 also saw the sewing centre that Mrs Shamin is establishing to teach the Gypsy women to be able to earn some income (Pastor Jehangir reports that the most common profession among the Gypsies is begging, from which they derive very little income). They saw the tents many live in and how the children pump water for their families, as well as the church which is being established for those who are coming to Christ through this ministry. Then they prayed for a boy whose leg was broken and infected and Pastor Akram reported was also demon possessed. Pastor Akram reports that the boy was released.

After visiting the Gypsy camp Bishop David and sister Anita were taken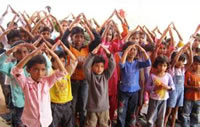 to a roof-top meeting of JEM (Joshua Educational Ministry) in Youhanabad, Lahore where the children sang Christian songs in Urdu and recited Bible verses in English. Pastor Asghar shared about the ministry of JEM (www.jempk.org) and they had a brief time of ministering to the children with Bishop David giving a small message and sister Anita teaching them a song with actions, which the children learned very quickly.

Sister Anita was taken to Lahore airport to fly to Karachi. On the airplane she befriended the young Muslim woman sitting next to her, who responded to the love of Christ shown and gratefully accepted Anita praying for her.
Jesus Prayer & Worship Church organised another praise, worship and healing crusade that evening in Asif Town, Lahore. The local church choir led the worship and Pastor Sarwar presided over the meeting with Bishop David preaching on "Jesus Christ is the same yesterday, today and forever" and interpreted by Pervaiz. All were greatly blessed by the message and Pastor Akram reports that when the alter call was given 200 men and women accepted Jesus Christ as their personal saviour and many were healed, slain and blessed when Bishop David prayed for them, with the healed people giving their t---------t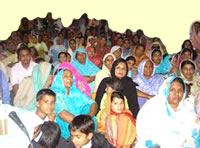 estimonies after the prayers.
Bishop Mall reported that there was a unique church meeting at Clifton Bridge, Karachi that night, which about 500 people attended and many people were healed, gave their lives to Christ and received blessing from the Spirit of God as Pastors Tom and Kenneth ministered. Sister Anita was also collected from Karachi airport and brought straight to a meeting to preach to those gathered.
Saturday 19th March
Pastor Akram took Bishop David to record his message with Isaac Television in Bahar Colony, Lahore.
Then they went to a family meeting at Pastor Rashid's house in Nishat Colony, Lahore where a lady was sick with Hepatitis C. Bishop David gave a small message (translated by Pervaiz Khan), prayed and blessed the family to be healed of all their problems. Pastor Akram reported that the family testified that the Lord has healed them.
That afternoon at 4pm Pastor Akram lead them to a house of prayer in Madina Colony, Lahore where he reports over 200 people had gathered to hear the Word of God and be healed. Bishop David preached on "Healing" with Pervaiz translating into Urdu. The congregation greatly appreciated the Word and Pastor Akram reported that people were spiritually healed as were many of their physical sicknesses and diseases.
At 7pm they reached a place of worship in Changi Amar Sadhu, Lahore for a Thanksgiving meeting. Bishop David shared the Word of God with an emphasis on "Thanksgiving and Tithe", which was translated by Pervaiz Khan and appreciated with clapping and praising the Lord. Prayers were also offered for healing and everyone served with dinner.
Zeerick took Apostle Elias to Okara District in the morning. This district is agriculturally good in wheat, rice, maize and livestock. The rural village church was packed with more than 700 people. They willingly received the Word of God as Apostle Elias preached. Many people were healed and delivered. Thanks be to God, it was a very successful and blessed meeting and Apostle Elias enjoyed the village life of Pakistan.
Bishop Mall organised a Leadership Seminar on Evangelism and Discipleship in Karachi, which was attended by about 35 participants. All were blessed through the dynamic praise and worship. Pastors Kenneth, Tom and Anita each taught one session of the Seminar with sound Biblical guidance and practical advice on evangelism and discipling our people to evangelise others.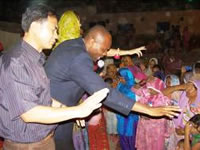 That evening there was a powerful Crusade at United Colony, Karachi. There a young couple were set aside for ministry through prayer with each member of the ministry team laying hands on them and praying for them. Both Pastor Tom and sister Anita shared the Word of God with the people as Bishop Mall interpreted. Then Pastors Tom, Kenneth & Anita all prayed for the various needs of the people. Bishop Mall reports that many acts of healing and deliverance were experienced with others giving their lives to Christ.
Sunday 20th March
Pastor Akram took Bishop David to minister in the FGA Church Sunday Service in the district of Kasur, about 45 min from Lahore. There was whole hearted worship and special songs performed by guest singers. Bishop David preached on "The Holy Spirit and the day of Pentecost". Pastor Akram reports that over 500 people attended the service and that they started being slain, weeping, being healed and filled with the Holy Spirit as Bishop David preached at his peak moved by the Holy Spirit and that when the alter call was given at the end of the message 300 gave their lives to Christ.
That evening they attended a Prayer Meeting at the University of Punjab, Lahore and Bishop David shared a message on "Obey the Lord" with Pastor Pervaiz translating. The congregation showed their appreciation for this Word by clapping and shouting 'Amen' and 'hallelujah'.
Brother Zeerick took Apostle Elias to a Pentecostal Church in Okara City where more than 1,000 people had gathered for the Sunday Morning Service. The church extended a very warm welcome to their guests. This church worshipped powerfully in the midst of dangers that had a security guard at the gate and another inside the church. Apostle Elias preached a very powerful message of healing and deliverance, translated by brother Jay Daniel.
It was late at night when they returned to the waiting people in the GEM Women's Cell in Ichra, Lahore. Apostle Elias taught the women regarding Christian prayer. The women enjoyed the message and were eager to live it out. When they were about to leave a family requested prayer for their elder who was suffering from a serious skin disease. Apostle Elias prophesied that he would be healed in 15 days if he received healing by faith. Praise the Lord, after a week they heard that the healing had started in the person.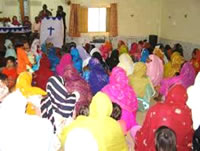 Bishop Mall took Pastors Kenneth, Tom & Anita to the John Wesley United Methodist Church in the City of Thatta for a Sunday Morning worship service of Holy Communion. They were warmly welcomed and some children performed for them before the congregation of 250 people was ministered to by Pastors Tom , Anita and Kenneth.
After lunch they travelled through many areas that had been ravaged by last year's floods on their way to the Great Tribal Ministry (which is the Gypsy Mission Project of UMC Pakistan). Zeal Pak Camp and Salaudi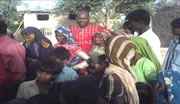 n Camp were visited. The people in these areas are very poor and the mission includes both preaching the Gospel and helping provide for some basic needs like a water pump. The children have no shoes and no opportunity for formal education. Then Hari Camp Sikandarabad was visited where the Christian converts organised a worship meeting with more than 100 gathered to praise our Lord and listen to His Word as the light faded and the stars spread their canopy above us – they have no lights in this camp except the light of Christ in their hearts.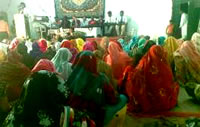 Then Pastors Peter, Kenneth and Anita were driven to a Crusade in a in Hyderabad church, where many had gathered and all received wonderful blessings from the Lord through the ministry of the Word and prayer from the team.

A publicity seeking pastor in the US decided to burn a Quran on this day and it made the front page in the Pakistan newspapers during the following days ~ making life more dangerous for many Christians in Pakistan. Some members of the congregation in Hyderabad were shot in retaliation for the US pastor's action. The Pakistani Christians responded by praying for the victims and their families and for forgiveness for the perpetrators and the man whose actions incited them.
Monday 21st March
Pastor Ravi (Peace and Unity in Christ Ministries Pakistan) and his father collected Bishop David and Apostle Elias for the 5 hour drive from Lahore to Faisalabad. As they drew closer they were almost hijacked by six Muslim extreemists who stopped and surrounded their vehicle, trying to get in,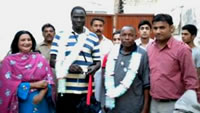 but God delivered them by causing a jam of vehicles and bringing confusion on the extreemists so that they could not find the doors of the vehicle. So they continued on their journey and arrived safely at Pastor Ravi's home. That evening they sang songs with the ministry gospel choir and preached to the crowd that gathered at the home to hear the Word of God.
Evangelist Perwaiz (Sunday School Association) and Evangelist Jabran collected Pastor Kenneth, who had flown from Karachi to Lahore and been collected from the airport by Pastor Akram. They took him to a Healing Crusade in Sheikhupura where he preached on the filling of the Holy Spirit that night 400 people who listened intently and had a passion to learn about Jesus Christ. Many people received God's blessing from His Word that night and came to Christ. The local police providing security for the meeting.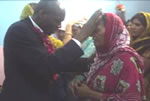 Bishop Mall conducted a worship meeting at St. James United Methodist Church in Bhatiabad, Karachi, where almost 200 people were blessed and happy to receive the Word of God through sister Anita and prayers from both Pastor Tom and sister Anita.



Tuesday 22nd March
Pastor Ravi organised a prayer meeting where Bishop David and Apostle Elias prayed for many children and some very sick people.
Anita took a flight from Karachi to Faisalabad where she was met by Pastor Ravi and his father. The journey back to their home had to take many detours to avoid a large angry protest / strike gathered on the main roads.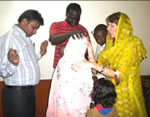 Then a Women's Prayer Meeting was arranged in Pastor Ravi Daniel's home. Bishop David shared the Word and Apostle Elias prayed and all prayed for the needs of those who came forward. Pastor Ravi Daniel reports that many people received healing at this meeting.
Bishop David and Apostle Elias proceeded to the home of Pastor Farhad and the Shelter Organisation, where they were warmly greeted and fellowshipped with the Shelter team.
Pastor Ravi organised a crusade in the village of Choungi and hundreds of people came to fill the place where they were meeting. Sister Anita preached and Pastor Ravi Daniel reports that by the grace of God many miracles happened at this meeting and many people came to Christ. One woman, over 90yo, asked sister Anita for prayer and the Holy Spirit released her from all her body pains so she started loudly praising God and glowing with the joy of the Lord. One lady had shoulder pain and after sister Anita prayed she was able to lift her arm and everyone rejoiced. Another young girl received healing from her stomach pain. After the prayers Bibles and Sunday School books that Pastor Ravi Daniel had brought were distributed to these very grateful people.
Bishop Mall took Pastor Tom to a small United Methodist Prayer Fellowship at Bishop Mall Senior's house where Pastor Tom lead a Bible study and prayer, greatly blessing those who had gathered.
Evangelist Perwaiz took Pastor Kenneth and Evangelist Jabran to two villages in Sheikhupura. 178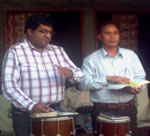 people gathered in church in the poor village of Kurlkay Androon and received many blessings from the Word of God. After the worship service they had special prayer for the sick and one teenage girl received healing from goitre. After prayer an old man immediately stopped smoking and threw them away.
In Thatha Malkoo village church over 300 people gathered to hear Pastor Kenneth Ling preach on 'What is a Christian' as J Daniel interpreted. Some received salvation from the message and many received blessing from God's word and healing through prayer.
Wednesday 23rd March
Around 90 people crowded in Farhad's home for a Leadership Seminar. Bishop David preached in the morning and Apostle Elias preached in the afternoon, greatly blessing and challenging those who had come.

Pastor Ravi took sister Anita to the Peace and Unity in Christ /Ministries Free Beautician Training Centre for Christians in Faisalabad to meet the staff and pray for them. One old lady there had joint pains which were healed when sister Anita prayed for her, praise God.


Pastor Ravi and his team took sister Anita to Yousa-fabad Christian villiage and the street filled with people when their van arrived. People crowded into the meeting area and filled every available space, even out onto the street. The Holy Spirit ministered through the worship and sister Anita's preaching. Pastor Ravi reports that people accepted Jesus, pains were released, arm healed, stomach healed, brain pain all healed in Jesus' name. They also distributed Bibles and Sunday School books that Pastor Ravi had brought for the poor villagers who lived here. The people praised God and clapped their hands.

That evening they travelled to the very poor town village of Yaseer for a children's feeding program (Pastor Ravi's mother had been very busy preparing all the lovely food for the children). After prayer the meal was distributed to the 200 children who had crowded into this courtyard. Then they were also presented with special gifts and Sunday School books that Pastor Ravi had brought for them.
After this Anita was taken to brother Farhad's home and warmly welcomed there.
Bishop Mall took Pastor Tom to Doli khta family prayer meeting in Karachi where he ministered and

commissioned one woman for evangelistic services. Other women who had no children were prayed for to have babies by God's intervention. One young man shared with Pastor Tom that Jesus has called him for missionary service and asked for prayer to work with Pastor Tom's ministry People For Jesus International Ministries for all of Pakistan. This young man, Ashgar, will be instrumental in PFJIM's ongoing involvement in Pakistan.

Evangelist Perwaiz, Pastor Jawed Shaheen, Pastor Kenneth and Evangelist J Daniel first went to the Gujjarnwala House Meeting where the choir worshipped with great zeal and Pastor Kenneth preached on 'Who we are in Christ'', encouraging and strengthening the people in their faith. When Pastor Kenneth prayed many sick were healed and came to salvation. Then to Badu-rata Villiage Church where he preached to over 210 people on 'Who is the Living God'. Many people received blessing from the Word of God, including a boy who confessed to receiving salvation through the message. God did many miracles through His servants Pastor Kenneth and Evangelist. Jay Daniel.
Thursday 24th March
Brother Farhad had organised a two day Church Leadership Seminar in the Presbyterian Church

Warispure, Faislabad for the ministry of Biship David, Apostle Elias and sister Anita. Despite problems with work on the building that delayed the start of the program, almost 150 villagers, pastors, evangelists and church leadership attended this seminar on Thursday morning. All were blessed through the worship and presentations of the musicians, singers and children. Sister Anita preached on the calling of every believer to minister for Christ according to their gifting and the Holy Spirit moved among the people with many testifying of God's blessing after the preaching.
Pastor Pervaiz, Pastor Kenneth Ling and Evangelist J. Daniel came to receive sister Anita that afternoon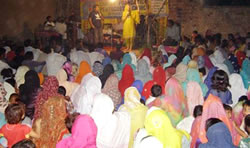 to take her with them to Sheikupura. They arrived that night at the Christ Foundation Pentecostal Church Healing Crusade in Saleem Kot Village and ministered there with sister Anita preaching the powerful message of the gospel and Evangelist J. Daniel interpreting. The people were very happy and received much blessing from the word preached. After the service they visited a church member's home and prayed for two sick people in their family.
Bishop Mall took Pastor Tom to the Drigh Road Glory of God United Methodist Fam

ily Prayer Fellowship in Karachi. Among those who came to Pastor Tom for prayer were Hurrah, a woman from Muslim background, and a man who was blind and after prayer he could see some twinkles in his eyes. Pastor Tom had heard sporadic gunfire every night he was in Karachi but this day he reported that there had been very many gunshots in the city and some incidents of Christian persecution so the level of anxiety in Karachi was high – but the work continued. God cannot be so easily stopped, He is too strong to be challenged.

Friday 25th March
Brother Pervaiz, Major (RTD Salvation Army) Surriya, Bible teacher Miss Kulsoon, Pastor & Mrs Jawed , Pastor Kenneth, sister Anita and Evangelist J Daniel were greated on their way to the Warburton Town Healing Crusade, Sheikupura with dancing and traditional celebrations. After the praise and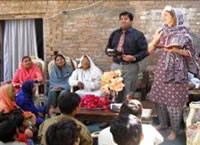 worship Pastor Kenneth preached powerfully on 'Who We Are in Christ. Then more praise and prayer, followed by sister Anita preaching on Being the Bride of Christ. With all interpretation by Evangelist J Daniel. Then the sick were prayed for. Even two Muslin town leaders came to receive prayer after the meeting. As with so many places in Pakistan we could not leave this village without first receiving of their generous hospitality in a beautiful meal, lovingly prepared for their guests.
Bishop Mall took Pastor Tom to Karachi airport for his flight to Lahore to meet with the rest of the team.
Brother Farhad took Bishop David and Apostle Elias to Sheikupura to meet up with Pastor Kenneth, sister Anita and Evangelist J Daniel. After briefly visiting a local church they all travelled to brother Zeerick's home in Lahore. On the way they saw another, very large, angry, demonstration gathering in different places along the road to all join up into one After prayers on Fridays can be a dangerous time when there are issues that arouse strong sentiments in the Muslim population. We were thankful to God that we safely passed these gatherings before the demonstration was fully formed and being stirred up by the speeches and burning of an effigy of that US pastor and the US flag. It was with great joy that we all rejoined at brother Zeerick Azeem's home and began sharing some of our experiences and what God had done. As we joined with the Lahore pastors and Farhad in prayer we thanked God for all that He had done thus far and lifted up our dear brothers and sisters in Hyderabad who had been shot or lost loved ones in the persecution in retaliation for the US pastor's Quran burning. Pastors Akram A and Akram T were eager to have more ministry from members of our team and so the schedule was revised for the next few days. We did, however, continue to be blessed with spending each night and early morning together with the wonderful hospitality of brother Zeerick's lovely family.
Saturday 26th March
Pastor Akram T collected Bishop David and Apostle Elias for more ministry with Jesus Prayer & Worship Church.
Pastor Akram A collected sister Anita for a roof-top Women's Conference.

Sunday 27th March
Bishop David and sister Anita attended a nearby Sunday service in the morning and Bishop David blessed the people by preaching there.
Both were also asked by different ones to pray for them.
Brother Zeerick & Great Evangelical Ministries did a wonderful job of hosting all the ministries participating in this mission as we gathered together from Lahore, Karachi, Faisalabad and Shakhupura for our Combined Celebration in Kenneth Hall in Modern Colony, Lahore. Three people from each ministry were invited – the head pastor, his wife and their interpreter for this mission so all could get to know each other better so as to work together and encourage each other for the sake of Christ.
While the missionaries waited for proceedings to begin they were blessed with Pastor Obaid sharing the great work of Pakistan Fellowship of Evangelical Students with them. When all was ready the missionaries were each greeted by one of the Pakistani Pastors with a garland of flowers to be
welcomed into the Hall. Proceedings began with brother Zeerick Azeem welcoming us all and then sister Anita opening in prayer. Then Evangelist J Daniel and his band lead us in praise and worship to our awesome God. The participants worshipped with their whole hearts and danced in the Spirit before the living God with much rejoicing. The Holy Spirit's presence was felt by each one. Each of the Pakistani Ministries then presented a brief report on the mission. Each of the missionaries then shared their experiences in Pakistan. All were most grateful for the wonderful hospitality and generosity of the Pakistani pastors, even giving up their own beds for us to sleep in, and for all the work organising the programs for us to minister at and ensuring our security. Sister Anita shared on our unity in Christ and living that out in the way we treat each other and work together for the sake of the Kingdom, and illustrated how badly we misrepresent our Lord Jesus (th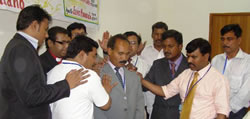 e head of His body the church) when we attack, criticise or mistreat each other or other ministries. Zeerick was appointed as our first RMF Coordinator for Pakistan. All the Pakistani pastors gathered around to pray for brother Zeerick and lay their hands on him in a serious and holy atmosphere for this responsibility. Then all the missionaries likewise laid their hands on brother Zeerick, prayed and anointed him for this position of service to the body of Christ in Pakistan.
Observations & Recommendations:
The church in Pakistan is growing through healing crusades and they are united is serious fellowships but many are not deeply rooted in God's Word. More leadership seminars, Bible schools and training centres are needed. Also more Bibles and Christian discipleship materials need to be made available to the believers in Pakistan.

Church leaders in Pakistan need Christian training and international mission exposures. There is a need for more short-term and long-term missionaries to be sent to Pakistan. Pakistani saints should also be trained, sent and supported as missionaries to other nations.

Most Christians need income generating activities.

The saints in Pakistan are going through real persecution, individuals and churches have been attacked with weapons, bombs and fires, and whole villages have been torched. The Blasphemy law in Pakistan is a cause for much concern as Christians have been falsely accused and sentenced to death under it and those who have tried to argue for it to be repealed have been murdered by the Taliban. Many Christians fear witnessing due to the dangers of this situation. We need to all continue praying for God's wisdom and protection for the saints in Pakistan, support all efforts to have this law repealed and to advocate for those being falsely accused under it, and pray for the comfort and empowering of the Holy Spirit.

All the ministers are encouraged to work with the Coordinator to build unity and strength in the church in Pakistan just as fingers work with the thumb to accomplish the tasks of the hand.

As Renewal Ministries Fellowship grows in Pakistan we will appoint coordinators for each major city/region but at this early stage we are starting with one Coordinator who has proven himself to be faithful and skilled in bringing together and serving the other ministries.
This historic Combined Celebration ended with more praise, worship, hymns, singing Gospel son

gs, dancing and rejoicing in God. Then all the Pakistani Pastors and their families had the opportunity to fellowship together over a delicious lunch, as did the missionaries.
After all was finished with the Celebration Pastor Akram Tabasum (Jesus Prayer & Worship Church) took Bishop David and Apostle Elias to minister in further meetings that night.
Monday 28th March
In the afternoon Pastor Akram A(Flag of Jesus Church) collected Pastor Kenneth and sister Anita to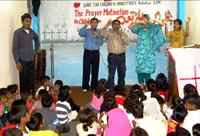 minister with Love the Children Ministries. The children welcomed them warmly, sang, danced and recited scriptures. Then sister Anita ministered to them with puppets of Australian animals in a story about our need to love one another, did some scripture memory verse work with different children representing each word in the verse and taught the children an action song. Pastor Kenneth then shared a Word with the children encouraging them to read and learn the Bible and taught them another song.
Once we had rejoined the rest of the team brother Zeerick took us to visit with Pastor Azhar, and the other ministries sharing his office. We were warmly welcomed and they shared about the great work of Church of the Nations Pakistan and the Women's Development and Child Protection Organisation (WDCPO), founded by Dr Shakeela. Following a delicious dinner we returned to brother Zeerick's home to prepare for our departure.
Tuesday 29th March
About 1am brother Zeerick took Pastors Tom , Elias, David and Anita to Lahore Airport and we were met there by Pastors Akram & Maria, Akram T and Pervaiz who also farewelled us before we entered into the boarding area. We had a small taste of some of the more subtle harassment many of our dear brothers and sisters face daily as the drug detection police, noting that we were Christians, did a particularly long and detailed search of all our belongings and had us body-searched twice. Hundreds of other passengers went through quickly and easily while our passports were taken and we were detained, searched and re-searched. At last we were allowed to go through, although half way through sister Anita realised that they hadn't given her passport back and had to go back to collect it. Once we emerged from security our hearts were warmed by dear brothers in Christ who worked at the airport and assisted in getting boarding passes and luggage loaded. One last time of prayer and fellowship together as we discussed developments for the ministry in Kenya before sister Anita boarded her flight for Australia at 3am.
The Kenya team boarded their flight just after 4am and arrived in Nairobi right on time at 12:45pm. They were warmly welcomed by Pastor Tom's wife and the People for Jesus International Ministries Narok Maasai Town church.
Pastor Kenneth enjoyed one more day in Pakistan before reaching Lahore airport at 10pm that night to board his flight for Myanmar just after 11pm.
Wednesday 30th March
Sister Anita arrived in Brisbane, Australia at 6:40am and was welcomed by church members. Pastor Kenneth arrived in Yangon, Myanmar just after 10pm and was welcomed home by his family.
We will never forget the beautiful people of Pakistan. Life-long friendships were forged during this mission, both between the missionaries and with the pastors and their wives in Pakistan. It was wonderful to see our Affiliates in Pakistan begin to work together and to be able to appoint a faithful and gifted Coordinator to continue to work of building unity and strengthening the churches in Pakistan.